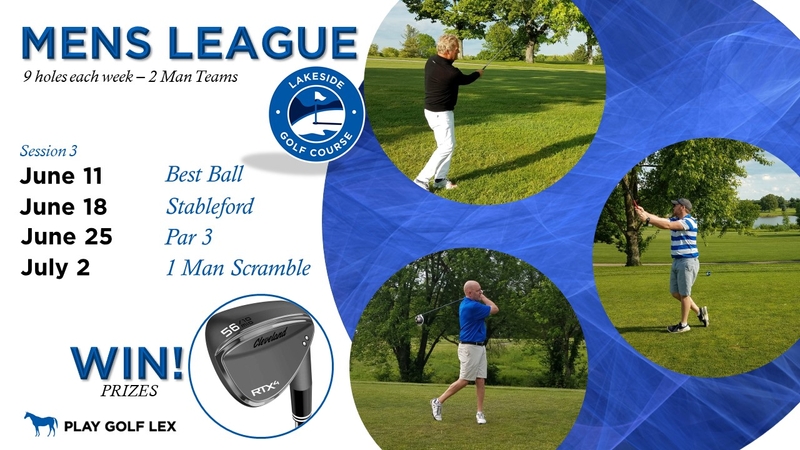 Tuesday Nights
5:45 PM Shotgun Start
---
INCLUDES:
4 - 9 Holes Matches
Green Fees and Carts Included
Entry into weekly and overall Prize Pools
Complimentary Beverage each week
---
$100 per player for all 4 weeks
Deadline to register and pay: Friday, June 7th
Payable at Lakeside Golf Shop in person or by phone
Frequently Asked Questions
"I'm not a good golfer, how will I compete?"
We use a 9 hole handicap system based on previous rounds to level the playing field
"I don't have an official USGA Handicap, can I still play?"
Yes, the golf professional will speak with you about average scores you typically shoot and will assign you a starting men's game handicap. Each week all scores played in the league will be recorded and handicaps will be appropriately modified to ensure a level playing field for all golfers.
"What if myself or my partner can't make it a particular week?"
Subs are encouraged, you won't have a tough time finding someone to take your place for some free fun golf. If you still can't find a partner we will help you find a sub. We ask that you contact the golf professional in advance to let them know so any appropriate modifications can be made.
"What happens if we get rained out?"
A makeup week is planned into the calendar for the season for each session. So as long as Mother Nature isn't too uncooperative, we shouldn't have any issues.
"What kind of prizes can I win?"
Weekly prizes will be awarded in merchandise credit to use either for merchandise in the shop or for future Men's League Session entries. Overall prizes in the past have included winning team receiving each a NEW! Custom Cleveland RTX Wedge to their specs ($200 Value).
"What format will we play?"
Each week we will play a different and fun 2 person team format game. Such examples include scramble, shamble, best ball, match play, varying tee games, etc. You don't need to know how to play in advance we will get you all the appropriate information before so you know how to play.